Deni Hines

---
rhythm & blues singer
---
Astrology chart, profile, books, links
---
---
Taurus Ascendant, Virgo Sun, Libra Moon, Saturn Rising
---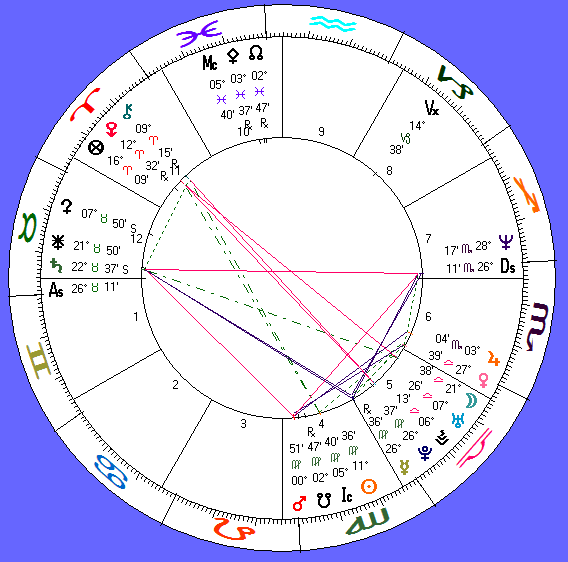 ---
AstroData: born Dohnyale Sharon Hines, 4 September 1970, 23:32 (11:32pm) AEST (10hE), Sydney, Australia. (Sy Scholfield [copyright] cites data from her mother's biography: Karen Dewey's "Diva: The Life of Marcia Hines" (Sydney: Macmillan, 2001), pp. 71-72. Date and place also from Marcia Hines' official website (http://www.geocities.com/BourbonStreet/3902/biography.htm). Time of birth is also consistent with info in an article in "The I Magazine" (http://www.thei.aust.com/isite/denihines.html) in which Hines is quoted as saying, "I'm Virgo with a Taurus rising...I'm like earth, earth, earth,..." RR: A).
---
FEATURES: PERSONALIZED PLANETS: Taurus SATURN (Conjunct Ascendant), Virgo MARS (conjunct South Node and IC), Virgo SUN (conjunct South Node and IC), Libra VENUS (conjunct Moon; semi-square Sun), Scorpio NEPTUNE (conjunct Descendant), Aries ERIS (quincunx Sun; opposite Moon). PATTERNS: T-SQUARE (Neptune opposite Saturn, both square Mars). MUTUAL RECEPTION: Aries CHIRON, Virgo MARS. SHAPE: SEE-SAW. CHINESE SIGN: DOG. NUMEROLOGY: "5" LIFEPATH.
---
Wikipedia Biography [Astrology by Sy Scholfield]:

Dohnyale "Deni" Sharon Hines (born 4 September 1970 in Sydney, Australia) is the daughter of singer Marcia Hines, and an Australian R&B singer.

Hines released her first single with the Australian band Rockmelons with the a cover version of the Bill Withers 1971 hit "Ain't No Sunshine". She then went to release solo material with the top five single "It's Alright" and the top twenty album Imagination (1996) which clocked in sales over 2.5 million copies worldwide. Her latest album is titled Water for Chocolate which was released on 19 August 2006 and features the singles "Water for Chocolate", "Son of a Preacher Man" and "5 Days of Rain."

Hines grew up in Australia and was inspired by her mother's success as a singer to follow a career in show business. She was discovered by a friend when she was singing to the radio and then was encouraged to pursue singing as a career.[1] Her earliest employment was as a backing vocalist for such artists as Kylie Minogue (her Rhythm of Love Tour, Australia and Far East 1991), Jimmy Barnes, Wa Wa Nee and Peter Blakeley before she was approached by the band Rockmelons to provide vocals for several of their songs. The first song that Hines released with the Rockmelons collaboration was a cover version of the Bill Withers 70's hit "Ain't No Sunshine" in 1991. The song proved to be a success charting at number five on the Australian ARIA Singles Chart. With the success of the first single, the reggae-inspired "That Word (L.O.V.E.)" was the second song released with the collaboration and became another top five single, charting at number four in Australia. The third and final song Hines released with the band was the ballad "It's Not Over". The song was also a success but was not as big as the previous two, charting at number fifteen in Australia. With the success with the Rockmelons, Hines became one of the most well known faces, and voices, in Australia.

In 1992, entrepreneur Harry M. Miller signed Hines for the role of Mary Magdalene in a revival of the stage musical Jesus Christ Superstar. Miller had discovered and signed her mother Marcia twenty years earlier, and the role of Mary Magdalene had also been one of Marcia's early successes. Deni Hines was well-received in the role but left the production the following year. In 1992 Deni recorded "Not Enough Time" with INXS and it peaked at number twenty-eight on the Billboard Hot 100, a year later she married the band's guitarist and saxophonist Kirk Pengilly.

Read more at Wikipedia.