Julian Assange

---
publisher, journalist, Internet activist
---
Astrology chart, profile, books, links
---
---
Sagittarius Ascendant, Cancer Sun, Scorpio Moon, Neptune Rising
---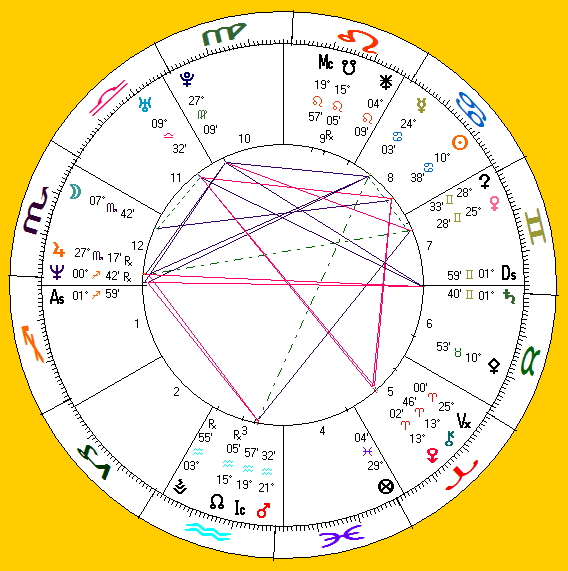 ---
AstroData: born Julian Paul Assange, 3 July 1971, 15:00 (3pm) AEST (10hE), Townsville, Australia. (Sy Scholfield [copyright] cites Assange as quoted in The Unauthorised Biography (Melbourne: Text, 2011), p. 32: "Back in Townsville on 3 July 1971, my mother was taken to Base Hospital, and I was born around three in the afternoon. She says I was round, dark-haired, loud, with the look of an Eskimo." RR: B).
---
FEATURES: PERSONALIZED PLANETS: Sagittarius NEPTUNE (Conjunct Ascendant), Scorpio JUPITER (conjunct and ruling Ascendant), Aquarius MARS (conjunct North Node and IC), Gemini SATURN (conjunct Descendant), Libra URANUS (square Sun; semi-sextile Moon). PATTERNS: CARDINAL T-SQUARE (Libra Uranus opposite Aries Eris-Chiron, all square Cancer Sun). SHAPE: SPLAY. CHINESE SIGN: METAL PIG. NUMEROLOGY: "10" LIFEPATH.
---
Wikipedia Biography [Astrology by Sy Scholfield]:

Julian Paul Assange (born 3 July 1971) is an Australian publisher, journalist, computer programmer and Internet activist. He is the editor in chief of WikiLeaks, a whistleblower website and conduit for worldwide news leaks, with the stated purpose of creating open governments. Assange was a hacker in his youth, before becoming a computer programmer. He has lived in several countries and has made public appearances in many parts of the world to speak about freedom of the press, censorship, and investigative journalism.

Assange serves on the WikiLeaks advisory board. WikiLeaks has published material about extrajudicial killings in Kenya, toxic waste dumping in Côte d'Ivoire, Church of Scientology manuals, Guantanamo Bay procedures, and banks such as Kaupthing and Julius Baer. In 2010, WikiLeaks published Iraq War documents and Afghan War documents about American involvement in the wars, some of which was classified material. On 28 November 2010, WikiLeaks and its five international print media partners (Der Spiegel, The New York Times, Le Monde, The Guardian and El País) began publishing U.S. diplomatic cables.

Assange received a number of awards and nominations, including the 2009 Amnesty International Media Award for publishing material about extrajudicial killings in Kenya and Readers' Choice for TIME magazine's 2010 Person of the Year.

Assange appealed a February 2011 decision by English courts to extradite him to Sweden for questioning in relation to a sexual assault investigation. He said the allegations of wrongdoing are "without basis". On 2 November 2011 the High court upheld the extradition decision and rejected all four grounds for the appeal as presented by Assange's legal representatives. £19,000 court costs was also awarded against Assange. A decision will be taken before the end of November as to whether Assange will be allowed to further appeal to the Supreme Court. If such an appeal is not allowed Assange will be then taken into custody and extradited to Sweden within ten days of that decision. Assange remains on conditional bail.